Rise of the Self-Replicators: Early Visions of Machines, AI and Robots That Can Reproduce and Evolve
2020
Publication Details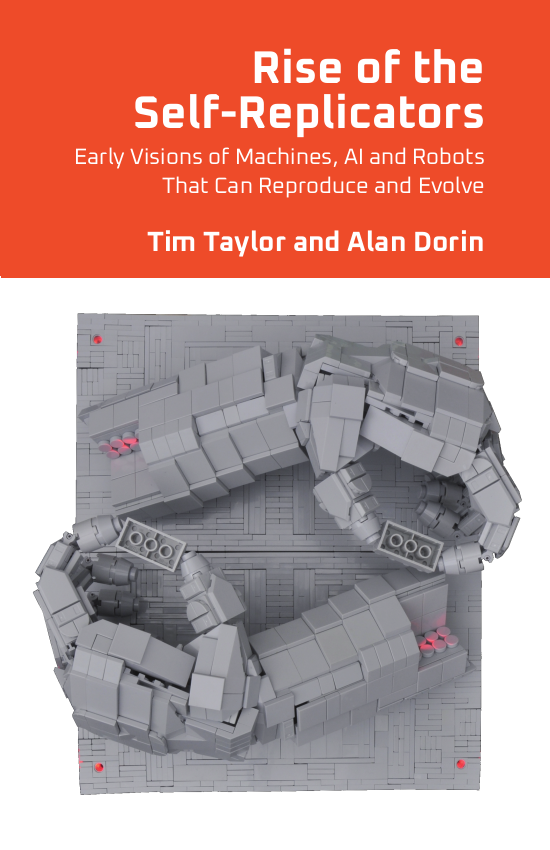 © Springer Nature Switzerland AG 2020
This is an author-formatted HTML version of the text produced for personal self-archival purposes.
For more information about the book, including details of how to buy it, how to download a free author-formatted PDF version, and supplementary materials, see https://www.tim-taylor.com/selfrepbook/.
The Version of Record of this book can be purchased from the Springer website: https://www.springer.com/gb/book/9783030482336.
Citation details
This book should be cited as follows:
Taylor, T., & Dorin, A. (2020). Rise of the Self-Replicators: Early Visions of Machines, AI and Robots That Can Reproduce and Evolve. Cham: Springer.
Citation in BibTeX format:
@book{taylor2020rise,
    title = {Rise of the Self-Replicators: Early Visions of Machines, AI and Robots That Can Reproduce and Evolve},
    author = {Taylor, Tim and Dorin, Alan},
    publisher = {Springer},
    address = {Cham},
    year = {2020},
    isbn = {978-3-030-48233-6},
    doi = {10.1007/978-3-030-48234-3}
}